Limmited Stock so call now 03 9023 3977
240V Electric Wire Hoist / Winch 600/1200kg with 1.2 Ton capacity. With a 2100 Watt Motor

The PA 1200 / 1200Kg Electric Hoist is the largest in the mini hoist range and out performs all the smaller winches by a country mile.

Sorry Sold Out.

Electric Chain Hoist / Winch with single chain 1 Ton capacity

Dual Speed Version with 6m of chain and pendant. The ideal reliable small workshop tool.
(Girder trolley not included)
Whilst all the range of Mini Hoists are manufactured in China and rebranded locally, this is the only model that has been imported based on capacity to deliver, rather than minimising costs in order to sell a cheaper product than a competitor.
No other unit in Australia packs a 2100 Watt motor or has a genuine 1200kg capacity.
This model is designed with a larger motor, thicker cable and a stronger gearbox, together with more secure anchorage of the winch to the outer frame chassis. This winch has 50% more capacity (both at the rated lifting capacity and motor size) than the commonly available standard 400/800 Electric winches on the market.

$510 + courier delivery charges or free pickup.

With similar capacity winches selling for well over $1,000 this is truly a bargain and it's the largest winch in the micro range.

OUT OF STOCK
DUAL SPEED 1 Ton CHAIN HOIST
6m lift height
Single fall chain
Protection class IP55
Energy efficient design
1.8Kw/0.6Kw motor
36V Low voltage controller
7.1mm diameter chain
Controlled dual lifting speeds of 6.6 or 2.2m/m
Emergency-stop switch
Hook operated limiting switches

240V - 3 Phase

$1,850

240V Single Phase
Including a BD600
3 phase Inverter

$2,175

Plus courier delivery charges or free pickup.

With similar capacity dual speed chain hoists selling for well over double this price.
If you want the biggest and best in the range, these electric wire hoists are a must.
Unlike smaller units that weigh under 20kg, this solid construction and larger motor unit weighs in at 32kg.
Don't risk buying small units and overloading them. Compare the motor size and winch capacity before you buy and make sure you leave a safety margin to spare.
Wire Hoist Features
• Powered by Lateral-Magnetic Single-Phase Capacitance Motor • Emergency Instant Stop Switch • Single or Double Wire Lifting • Overload Protection Function • Single Wire Capacity:600kg • Doubled Wire Capacity:1200kg • Lifting speed: Single Wire 8 metres/min, Doubled Wire 4 metres/min • 6mm Diameter High Tensile Cable • Voltage: AC 240V/50Hz • Input power: 2100W • Lifting height: Single Wire 18m, Double Wire 9m • Weight: 30kg Nett Package Contents • 1 x Electric Hoist • 1 x User Manual
Optional Wireless remote control rather than a pendant.
For the 600 / 1200 electric hoist there is also an option for a wireless remote control unit. The wireless remote control costs an additional $195. Limmited stock and once gone this would need to be ordered as part of the next shipment.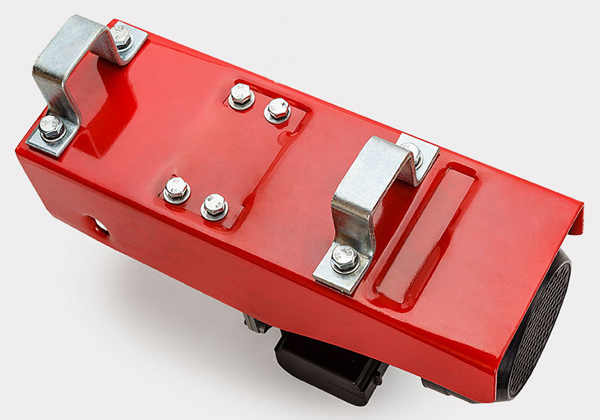 Returns :
We do not allow returns on this item, so please choose carefully.

These limited items are brand new and have been specifically shipped in from the manufacturer in China. Warranty period is 12mths. All costs associated with lodging any warranty claim including return of the goods to the Manufacturer in China is the responsibility of the consumer
How to know if you are buying a good electric winch ?
The Chinese manufacturers are more than happy to make almost any configuration that an importer wants. Sadly what this leads to is products on the market that are predominantly based on price. So what are the factors and what should you be looking for in these 240V mini electric winches and how do you compare between them.
In our view there are 2 main components and a range of minor considerations. In order of importance they are:
Motor size : This is the beast that does the work, yet motor capacity can range anywhere from a 1000W motor to a 2100W motor.
Its simple logic - Go for the largest motor available in your range as it will cope easier and last longer. I have seen the 400/800kg electric winch advertised having anywhere from a 1200W to a 1600Watt motor - so check this first.
500/1000kg electric winch normally come with a 1600W to 1800W motor.
Gearbox size : This is a tricky one to measure but the best rule of thumb is to count the number of screws fixing the gearbox to the outer assembly.
For the smaller electric winches under 800kg capacity, there are normally 2 screws. For the 800kg series there are 3 screws and for the 1000kg and 1200kg units there should be 4 top screws. Don't get confused with the 4 screws that fix the glide rail to the outer chassis(they all do this) and make sure you count the central screws that are fixed to the gearbox. In the image above you can clearly see both sets of screws.
The 500/1000kg and our 600/1200kg electric winches should also have a lower gear ratio and therefore a slower lifting speed to the other smaller winches on the market.
Again we have seen examples of 1300 Watt motors strapped to smaller gearboxes and claiming to be 400/800kg. It may work for a while but we think this is pushing the safety boundaries.
Then there are a raft of more trivial items like:
Make sure it is configured to Australian 240V - 50Hz requirement and not other regions that commonly use 220-240V - 60Hz. (This will still work but it will overheat the motors)
The cable length is pretty much immaterial but the diameter can vary. Again for safety reasons go for the larger diameter where possible.
Overall these are extremely great value 240V electric hoists and we have tested them to their intended capacity. We strongly recommend that users buy a unit that exceeds their regular needs as running any equipment at full load is detrimental to its longevity.
Single wire configuration s rated at 600kg and a double wire configuration as illustrated below is rated at 1200kg.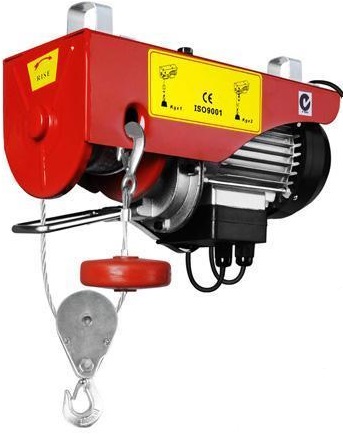 You might also be asking why a furniture manufacture is selling electric winches?
Well its simple - We use these ourselves in our work areas and had to buy bulk from overseas when we could not find a suitable heavy duty winch in the local market. There are plenty of electric winches on offer on eBay in the lower capacity range but none that truly met the over 1 ton rating. What has also come to light is that many of the winch retailers are keeping costs down by using smaller motors and in some cases even smaller chassis.
What we ultimately needed was quality and capacity and it seems that the local market was geared towards economy and price.
Having purchased the first lot of electric winches and found that there are many more people looking for capacity and quality over price we intend bringing in other smaller shipments of the same high specked unit.
It has been pleasantly surprising to hear some of our client echo the same.
We do not stock the smaller 400/800kg or the 500/1000kg winches and only retail the larger heavy duty 600/1200kg model with the larger motor.
Page electric winch