Solid Timber Picnic Table Chairs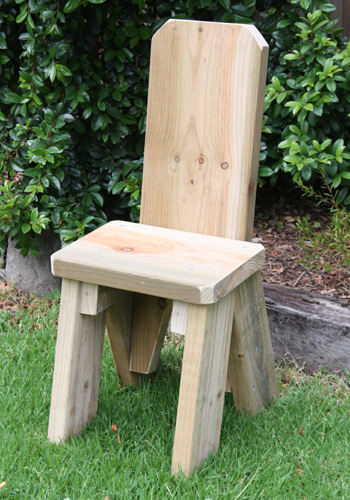 Wooden picnic table chairs made to the same designs as the conventional A frame Picnic Table that we sell.
For full pricing on all our products simply select the appropriate left hand menu options.
These picnic table chairs are an ideal way to extend the seating space around a conventional A frame picnic table. We have designed these to have the same seat height as our bench seats around the conventional picnic table so that they blend in and the legs also have a classic A Frame design to make them complement the existing furniture.
As with all out furniture they are solid yet movable. These are not thin boards or slats, the legs are made from 140x 45mm thick treated pine and the back and seats are made from 290x45mm thick treated pine. This is all held together with fully galvanised batten screws to ensure that are as tough as can be.
These picnic table chairs are not confined to the conventional picnic table and can be moved around the back yard or patio area. The can easily be stacked away and being made from treated pine these outdoor picnic table chairs will last for ages in the open.
Specifications : The seat area is 420mm wide x 300mm deep. The seat height is 440mm to match pour wooden picnic tables and the top of the seat back rest is 850mm from ground (but can be reduced if required)
If you are buying one of our conventional picnic tables, then you may also consider buying just a table without the benches and have these movable picnic table chairs as an alternative.
On our larger picnic tables you could easily add 2 chairs on each end to significantly increase the seating capacity
These are the only picnic table chairs in Melbourne that truly complement existing conventional picnic table settings and they are unique to us. They can easily be stained or painted to match your decor if required..
Page 27