Solid timber planter boxes for the garden and patio areas manufactured in Melbourne.
Timber planter boxes are an ideal way to highlight an area and keep things tidy. They are often simple to build and can even be turned into useful garden furniture. In keeping with our theme of solid furniture we have introduced a small range to get you started.
| | |
| --- | --- |
| Empty timber planter box with galvanised iron internal bracing, ready for planting | Aged and full of new life. Can be made in multiple sizes for any location. |
Solid planter boxes from sleepers
Material Ironbark/Greygum 200x100 (prices per layer)
| | | | | |
| --- | --- | --- | --- | --- |
| Length/Width | 450 | 600 | 900 | 1200 |
| 1200 | $391 | $425 | $489 | $550 |
| 1500 | $456 | $452 | $550 | $614 |
| 1800 | $519 | $550 | $614 | $678 |
| 2100 | $584 | $614 | $678 | $742 |
| 2400 | $645 | $678 | $742 | $793 |
Volume prices are cheaper again!
To protect and prolong the sleeper life, heavy duty black plastic lining can be applied inside the planter box for an additional $6 per linear meter. This is normally inserted below the top sleeper and to the base of the planter box.
Bevelled reeding

For larger wooden planter boxes with a bit more height, a plain wall might be improved visually by reeding along all the edges. This transforms a flat surface into horizontal sections and can look quite attractive. The photo on the right shows a stained wooden planter wall with 10mm reading. The cost of reeding is an additional $18 per layer.
(it dramatically enhances the finish)
Stained and reeded sleeper planter box wall

These solid timber planter boxes are so simple that we provide them as kits. They are priced per layer so you can build them up as high as you like. The angle iron is pre drilled so that you only have to screw in the supplied galvanised bolts.
If you are not a handyman, or don't have the tools or ability to pick it up then we can deliver and install these for $250 in the Melbourne metropolitan area. Timber planter boxes Melbourne delivery rates include installation and not just the boxes. For multiple units please ask for a quote.
There are 2 different timber types that can be used for this construction and both are great outdoor resilient timbers. One is ironbark and the other is treated pine. Both of these wooden planter boxes will handle the harsh weather conditions and have the greatest resiliency against soil.
You can also have these solid timber planter boxes assembled with the sleepers standing on edge. This is far more economical as the layer heights are 200mm. The sleeper thickness can also be reduced to 75mm. Why not turn the planter boxes into a garden furniture by simply adding a wider top section and making it a seat..
The prices are as follows. Material Eco Treated Pine 200x75 (prices per layer)

| | | | | |
| --- | --- | --- | --- | --- |
| Length/Width | 450 | 600 | 900 | 1200 |
| 1200 | $135 | $143 | $160 | $181 |
| 1500 | $153 | $160 | $181 | $198 |
| 1800 | $171 | $181 | $198 | $214 |
| 2100 | $188 | $198 | $214 | $233 |
| 2400 | $208 | $214 | $233 | $256 |

Volume prices are cheaper again.
You can further decorate the above planter boxes by placing a top layer flat so that it forms a useful ledge or shelf all round. It makes a great convenient garden seat.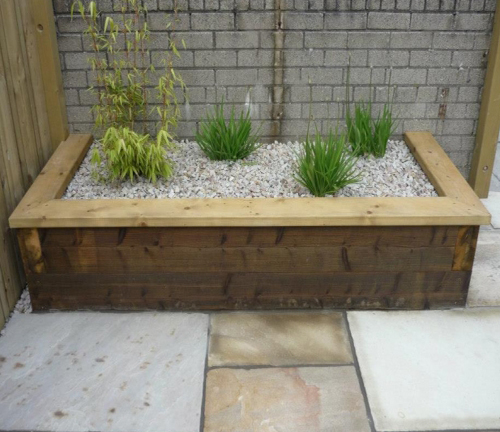 Or if you are looking for a more stylish or a functional solid planter box, just give us a call and we can work out a design for you and provide an obligation free quote.
Timber planter boxes can be used for a variety of functions and often look best when they double up and serve multiple purposes. A simple ledge on top is all that is sometimes required to give it that extra functional aspect. Planter boxes can be used to hid an ugly pot or to simply be filled with soil or potting mix to create a planting environment. Care needs to be taken to ensure moisture is not in constant contact with the timber as most timbers will perish if they are covered in soil and/or damp environments. Therefore if you are intending to place soil directly into planter boxes make sure they have a liner and are well drained.
In reality, solid planter boxes can be made from almost any timber and in any size. They can have a rustic treated pine look or be made of dressed merbau and have their surface oiled to a smooth finish. The choice is governed by what will look best in your intended area. If you are consider timber planter boxes Melbourne based TK tables is an ideal starting point as we use the same degree of care on these as we do on the rest of the outdoor garden furniture that we produce.
These vertical lined planter boxes can be made in multiple sizes. The default pricing below is for raw treated pine. These can then be stained to any colour. The sides are lined with a heavy duty plastic waterproof membrane.

| | | | |
| --- | --- | --- | --- |
| Height | Width | Length | Cost |
| 600mm | 600mm | 600mm | $767 |
| 600mm | 800mm | 800mm | $897 |
| 600mm | 1.0m | 1.0m | $1,075 |
Colorbond planter boxes
These self watering Colorbond planter boxes are great for nature strips, kindergartens, backyards and patios.
The planter boxes are fully lined internally and you can choose your own colour to match your surroundings for the external side. Being fully lined means that they will not weather and perish. These are ideal for small vegetable or herb gardens.
The Colorbond planter boxes come fully assembled with a colour matched framed top, filler spout, drain hole to suit natural drainage or wicker self watering planter box systems. You simply need to add the soil and plants or herbs to get your garden growing for this spring.

Overall Height 500mm
Inside Height for planting 350mm
Overall width 600mm
Length
Cost
1.2m
$1,525
1.8m
$1,640
2.4m
$1,840
3.0m
$2,120
Mixed colours
Add 10% to above
All prices quoted GST Exclusive Please check www.tktables.com.au for updated pricing and availability - Page 28