Back to school specials for February on picnic tables and hall benches
We have the best range and prices on timber picnic tables in Melbourne and during February they are all further discounted by 5% to schools only.
These are available in treated pine (non arsenate), ironbark hardwood and cypress pine. All our wooden picnic tables are solidly built to last and can be made to any length and width required, (including our slightly shorter versions for Primary schools)
The discount offer is strictly limited to schools only and does not apply to public or commercial sales.
Outdoor timber tables are always at rock bottom prices and we won't be beaten on quality or price on a picnic table made from the same solid materials. We even have a price match guarantee offer to back up our claims.
We make all our outdoor timber tables from solid timber, in treated pine, various hardwoods and in red gum. This entire frame, seat and tabletops are made from solid 45mm (2") thick timber - not the flimsy 35mm thick pine that some manufactures use to lower costs.
We also have another range of 'A' frame picnic tables made from red gum timber. River red Gum must be one of the most resilient timbers available and it looks striking if polished and oiled. The tables are as solid as a rock. Our red gum outdoor picnic tables are made from 50mm thick timber and sanded to remove sharp edges and splinters.
Even if you are not a school, don't leave it too late to enjoy a new outdoor table this summer. Buy a genuine solid timber picnic table for your work environment, sports club or back yard now. Picnic tables in Melbourne have never been better priced and we sell the best quality solid timber tables in Melbourne by a long shot.
Depending on the design chosen all the table top and seats are made from 45mm thick timber on a very heavy duty frame. This is solid timber assembled with fully galvanised hardware rather than cheaper zinc plated hardware. These functional picnic table will last for years. To see our full size and price listing on our wooden picnic tables click here and then take 5% off any item you choose.
If you prefer a different size or style, they are still a bargain !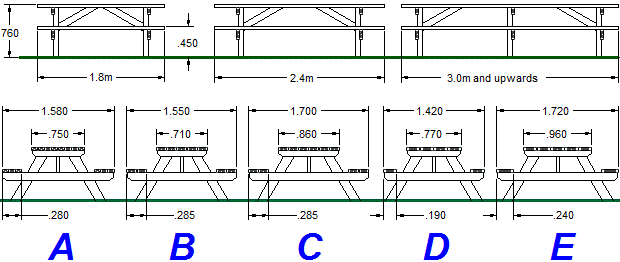 Our 5% offer is also extended to school timber benches and hall wooden benches on orders of multiple units.
Again this discount is not available to public or commercial sales.

To see our full size and price listing on our sleeper outdoor wooden benches click here.
And for our full size and price listing on timber hall benches click here.
(The prices listed are retail and not the discounted amounts.)
Orders must be placed by February 28, 2017 to qualify for the 5% discount.
Delivery fees of $200 apply for the Melbourne Metropolitan area, defined as 20kms from the CBD. Outside of that radius please refer to our delivery rates guide.
Or alternatively
Buy 3 or more picnic tables from any style and get free delivery in the metropolitan area.
Please note : Only one special offer or discount is available on any one purchase.
All prices quoted GST Exclusive Please check www.tktables.com.au for updated pricing and availability Please check www.tktables.com.au for updated pricing and availability - Page 08