River Red Gum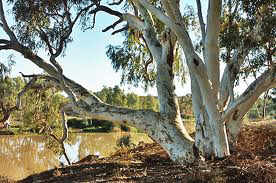 Eucalyptus camaldulensis
River Red Gum is one of Australia's best known trees. It has a widespread distribution along many of the river systems in Australia, particularly along the rivers and valleys of the Murray-Darling river system. It ranges from the eastern states, through eastern South Australia and into south-western Western Australia. It is a medium sized to tallish woodland tree with a whitish-grey smooth bark that is typically shedding over the whole trunk.

The species, given the riverside habitat, is often subject to submersion in flood conditions, and can withstand such conditions for long periods. River Red Gum has developed an enviable reputation for its timber properties which offer durability, strength and aesthetics. It has been widely utilised for heavy construction throughout Australia's history. Applications include furniture, bridges, and even timber street paving which was very common throughout Sydney's major streets and thoroughfares in the late 1800's.

Appearance
The heartwood is red to reddish brown in colour with the sapwood being distinctly paler. The texture is moderately coarse and even. The grain is commonly interlocked with frequent gum veins.
Properties
The heartwood is quite durable (Class 2), allowing for a range of exterior applications. Sapwood is susceptible to lyctid borer attack. It works well and offers great versatility in its uses. Applications include heavy commercial construction, general framing, sleepers, flooring, panelling, joinery and outdoor furniture.
We extensively use this timber to make our red gum furniture timber because it withstands time and weather
Page 32