Our iconic anchored garden seat can be purchased as a KIT for the home handyman or delivered and installed.
This lovely rustic design seat is firmly anchored into the ground to a depth of 600mm. Solidly constructed from 'A' grade recycled railway sleepers and bolted together from the rear this garden seat makes an impression in any setting.
In its finished state it can completely transform a garden area and give it a unique and functional purpose.
This sleeper garden seat is available in 4 lengths, with the 2.4m &2.7m versions having an upright at each end rather than one on the middle. The sleepers are sanded to remove any splinters and provide a relatively clear finish. The sleeper seats are made from recycled 'AA' grade railway sleepers that have minimal defects.
Length
KIT
1.2m
$ 750
1.8m
$ 980
2.4m
$ 1,600
2.7m (natural ends)
$ 1,720
Optional : 2200 PSI High Pressure Clean to remove surface dirt & grease
$125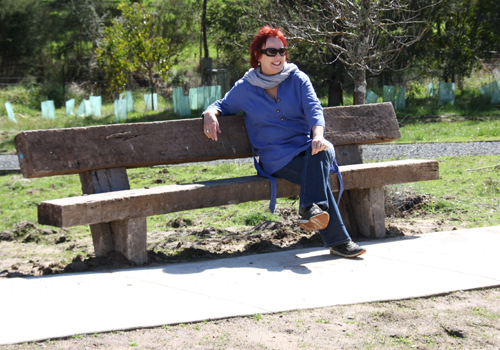 The masssive 2.7m long anchored seat in recycled railway sleepers
Please note that a standard delivery fee applies, however pick up of the Kits is obviously free.
The 1.2m and 1.8m versions can be purchased as a KIT as illustrated below.
The KIT is sold with all the timber sections rebated and pre drilled. (we actually fully assemble and disassemble each unit to make sure it fits). The KIT also contains a bag of concrete mix, all the hardware and a tube of liquid nails.
The instructions are quite straight forward, but a word of warning.... Please follow them in the precise order they indicate. Several people have fully assembled the sleeper seat on the ground then finding it is extremely heavy to move in one piece! The combined weight of the assembled sleepers is over 100kg !!
You will need a shovel, a strong socket set and a calking gun for the liquid nails.

Sleeper sizes vary and as such the lengths and widths may be slightly different to those indicated. A standard recycled railway sleeper is normally between 220mm to 250mm wide.
Full installation instructions are available here.
All prices quoted GST Exclusive Please check www.tktables.com.au for updated pricing and availability - Page 94