Solid timber benches Melbourne made by TK Tables for the public and commercial market.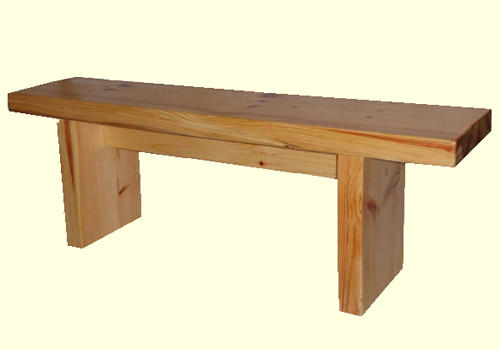 Conventional Benches
A timber bench made in the traditional style. We make our timber benches from a range of timber types and all are made to a solid standard that will withstand even the heaviest of use.
| | |
| --- | --- |
| Conventional Under Seat Support Bench | Conventional 45 Degree Support Bench |
Whilst this is a simple timber trestle bench design, it warrants its own page simply because of the many variations that are available
These benches can be made from almost any timber type and in any size. The sizes below are only indicative for the purposes of pricing and if you required anything in between these sizes we can easily accommodate that.
All these benches are a solid construction using 45mm thick timber so that they won't bend or sag.
They can be made in 190mm and 240mm widths. The standard height of the bench is 460mm for stand alone benches and 450mm for benches used as part of a outdoor table setting, but that too can be increased or reduced if required.
They all have sharp corners removed and can be supplied in raw timber, oiled or stained. These are just so versatile that they can be used in any location and for a multitude of reasons.
The Radiata pine versions are only suited for indoor use and are generally a lot lighter to lift than the rest.
We make these in 2 different styles, the first with a 45degree brace and the second with a under seat brace. Both are priced the same.
| | | | |
| --- | --- | --- | --- |
| 240mm Wide Benches - Conventional Bench | 1.2m | 1.8m | 2.4m |
| Kiln Dried F7 Treated Pine | $520 | $610 | $690 |
| Victorian Ash Hardwood (Dressed smooth) | $600 | $690 | $770 |
| Merbau (Dressed smooth) | $770 | $945 | $1,115 |
Options

Cabots Stained Add $95 per coat or Polyurethane $475 for 3 coats

Pictured :- solid 1.8m Merbau timber bench seat oiled with 2 coats

Call us today to discuss your requirements.
Volume enquiries are most welcome.
Or maybe a totally different style like the A Frame Trestle Benches that we also sell with our outdoor dining settings. These timber benches are 450mm to the top edge of the seat to accompany standard picnic or dining tables.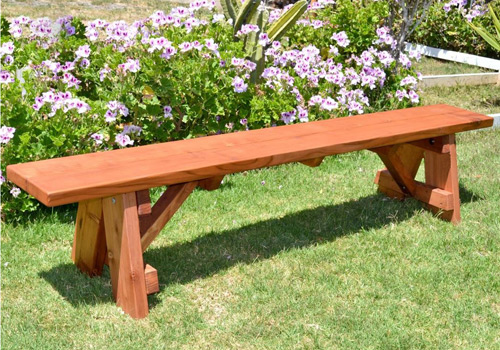 'A' Frame Benches
| | | | |
| --- | --- | --- | --- |
| 280mm Wide Benches - 'A' Frame Benches | 1.2m | 1.8m | 2.4m |
| Kiln Dried F7 Treated Pine (reeded) | $545 | $700 | $790 |
| Victorian Ash / Tasmanian Oak Hardwood | $695 | $790 | $895 |
| Seasoned Spotted Gum | $890 | $1,085 | $1,280 |
Stained or oiled is an additional $130 per coat
We also have a large range of timber benches made from sleepers and a further set of benches or bench seats that have a back support. And for the items we don't have listed or displayed, a simple phone call can get them started as all our products are custom built to order and not stock shelved items.
All outdoor timber furniture made from sleepers is a lifetime investment as it will be here for years to come. These benches can be used as a school bench or even as a commercial park bench. For all your bench needs contact us as we are by far the largest timber benches Melbourne manufacturers.
All prices quoted GST Exclusive Please check www.tktables.com.au for updated pricing and availability - Page 43